If you want more information, contact us:
Vocations Directress
La Salle College Antipolo
Antipolo, Rizal.
or mail:

P.O. Box no. 6

4120 Tagaytay City

PHILIPPINES
The Most Blessed Virgin Mary of Guadalupe is our Inspiration, Mother and Protectress in the Announcement of Jesus Christ, through inculturation as she did in her apparition to St. Juan Diego (in 1531), evangelizing the people in the beginnings of the Evangelization in the Americas, and along the history, her message goes on all around the world.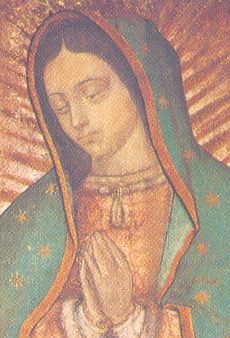 Fragment of the original Miraculous Image of Our Lady of Guadalupe